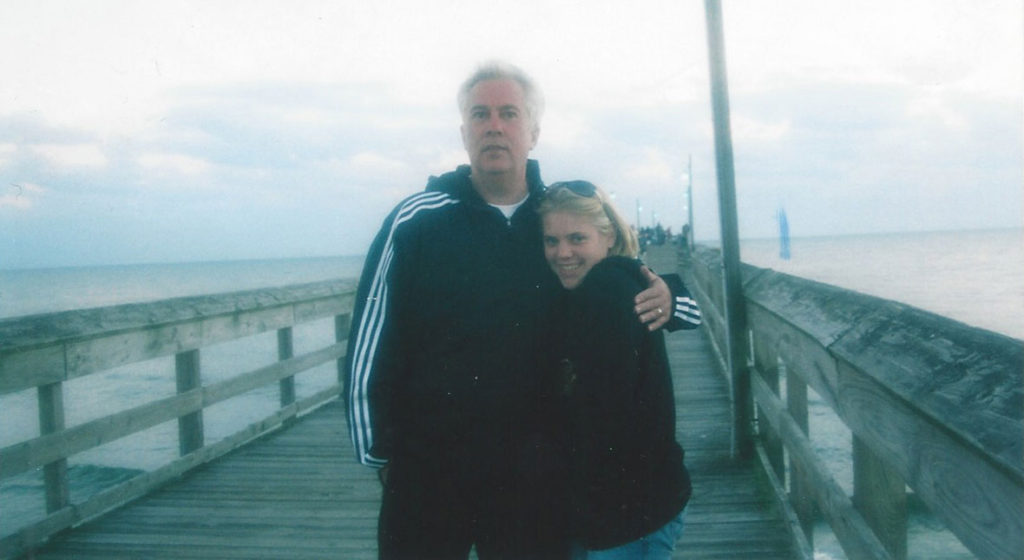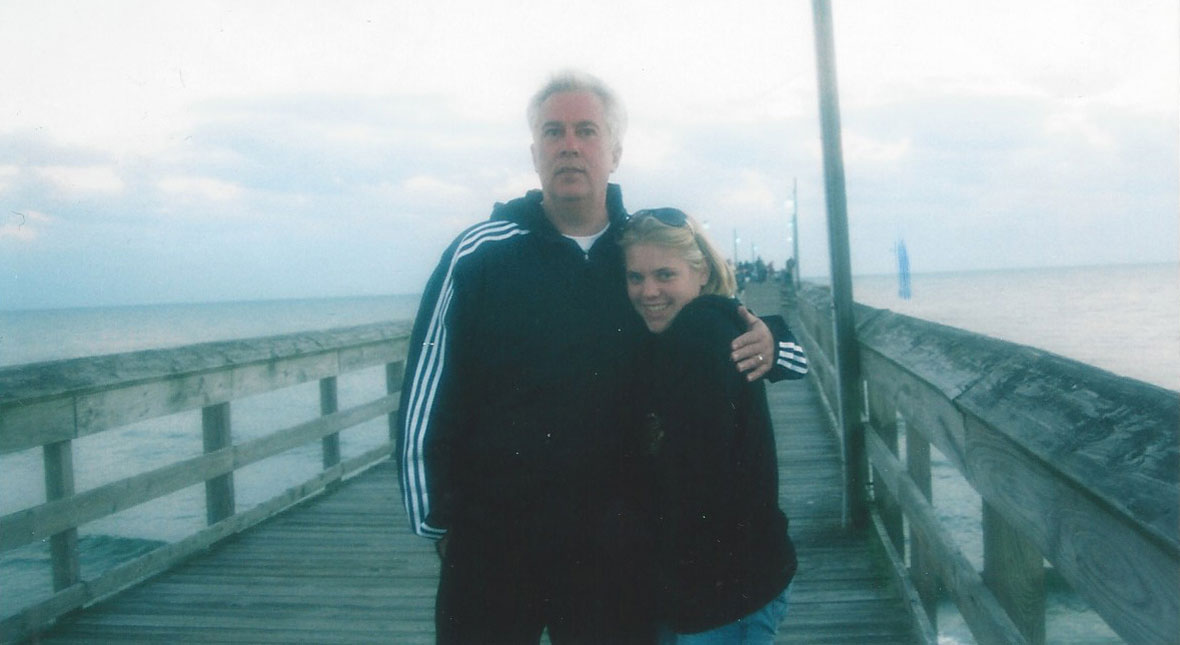 Always Papa
I drive back from the bank, cars blowing by as if we're not even moving. I shake my head, the cobwebs thick, life around me just short of a blur. I turn right off the four-lane maze and slow to a crawl as Haley, my four-legged friend, repositions herself on the console. She leans in, licks my neck and gives me that, "it's time to hang out" look. I oblige, open the passenger-side window, and we cruise, Haley hanging out in the early March breeze.
We round the long curve alone, the lake on the right, my senses waking up to the beauty around me. I open the sun-roof, a momentary tinge of joy, knowing Haley, even though nine years old, remains fiercely childlike when it comes to hanging her puppy-dog face out the window. Her happiness matters to me and her mama, AKA Donna, my wife, and the woman who has touched my life in ways I could never imagine over the past twenty-five years.
We approach a stretch of road that I had forgotten about, a sad testament to living in the four-lane rat race. I sit up, my senses alive, warmth filling a bottomless void.
            "Haley!" I call out.
She turns, her nub-of-a-tail wagging rapidly, and leaps onto the console.
"The dips!" I tell her, pointing straight ahead to the narrow two-lane road with its back-to-back nine-feet-high dips. She steps back onto her double-stacked pillows and leans out her window again, her right paw poking the side-view mirror.
I speed up in childlike anticipation, the sadness momentarily on hold as I bask in the memory of me and my five-year-old granddaughter crossing the dips, the purity of her laugh and sweet smile tickling my soul. When she was twelve, we rode our bikes over the dips one lazy summer day, only to hear ambulances and firetrucks in the near distance.
"Let's go…" we said and peddled in haste to the same four-lane road I just exited. We watched as EMS, firemen, police, and ultimately a Life Flight helicopter landed, a lesson learned about the frailty of life.
And then she was sixteen and driving over the dips, our roles reversed, our childlike joy wonderfully alive, as if five again.
I putter towards home, tears streaming down my face. Haley senses my sadness and sits next to me on the console. I explain to Haley that these tears have a warmth to them, the kind of warmth that I hope never fades — Sweet memories of the only child I've ever known and loved from birth to death. I have no biological kids. On paper, I was her step-grandfather. Abriel called me Papa. Always Papa. I was blest to be her father figure. From her pre-mature entry into the world and subsequent six-week neo-natal ICU stay — We brought her home on my 39th birthday, Abriel small enough to fit in the palm of my hand — Up to the day before her tragic death, she and Donna talking in our living room, the bond between them unconditional; to the 3/3/16 call that froze life in time, the screams as we raced towards her, the uncertainty, our minds telling us she's gone, our hearts crying it's a mistake…
A week with no sense of reality, culminating in a March 10th viewing, our hearts and hopes crushed. To a quaint sanctuary and an outpouring of love and support from family and friends, neighbors and both current and former co-workers, some of whom we had not seen in decades. And, then home — Donna, Haley, and me, a collective emptiness engulfing us.
I sit at my desk surrounded by my favorite pictures of Abriel, many from the beach. My favorite captures her at age nine gazing at the ocean, Abriel's eyes filled with such peace and joy and a sense of wonder. She fell in love with the ocean on that trip; I was already there. The boogie board and sailboat ventures that followed…
What an honor and a privilege, the 24 years we had with her on this earth. Such sweet memories you gave us, Abriel Destany Jade, Sweet Pea, Home Biscuit, Bubble-butt Pritchard. Even through tough times, there was a simple pureness of heart and an enduring love that I had never experienced – the absolute unconditional love of a child.
A Bible verse popped into my head awhile back. Donna reminds me that the verse comes from Jesus' Sermon on the Mount, AKA, the Beatitudes. Matthew 5:8 (KLV): "Blessed are the pure in heart: for they shall see God."
I see the face of God in the eyes of that 9-year-old child looking out at the ocean. I feel the childlike love she shared as a 24-year-old woman trying to find her way in a turbulent world. As deep as it cuts, the myriad of sweet memories get me through another day.
More Memories from Joe Pritchard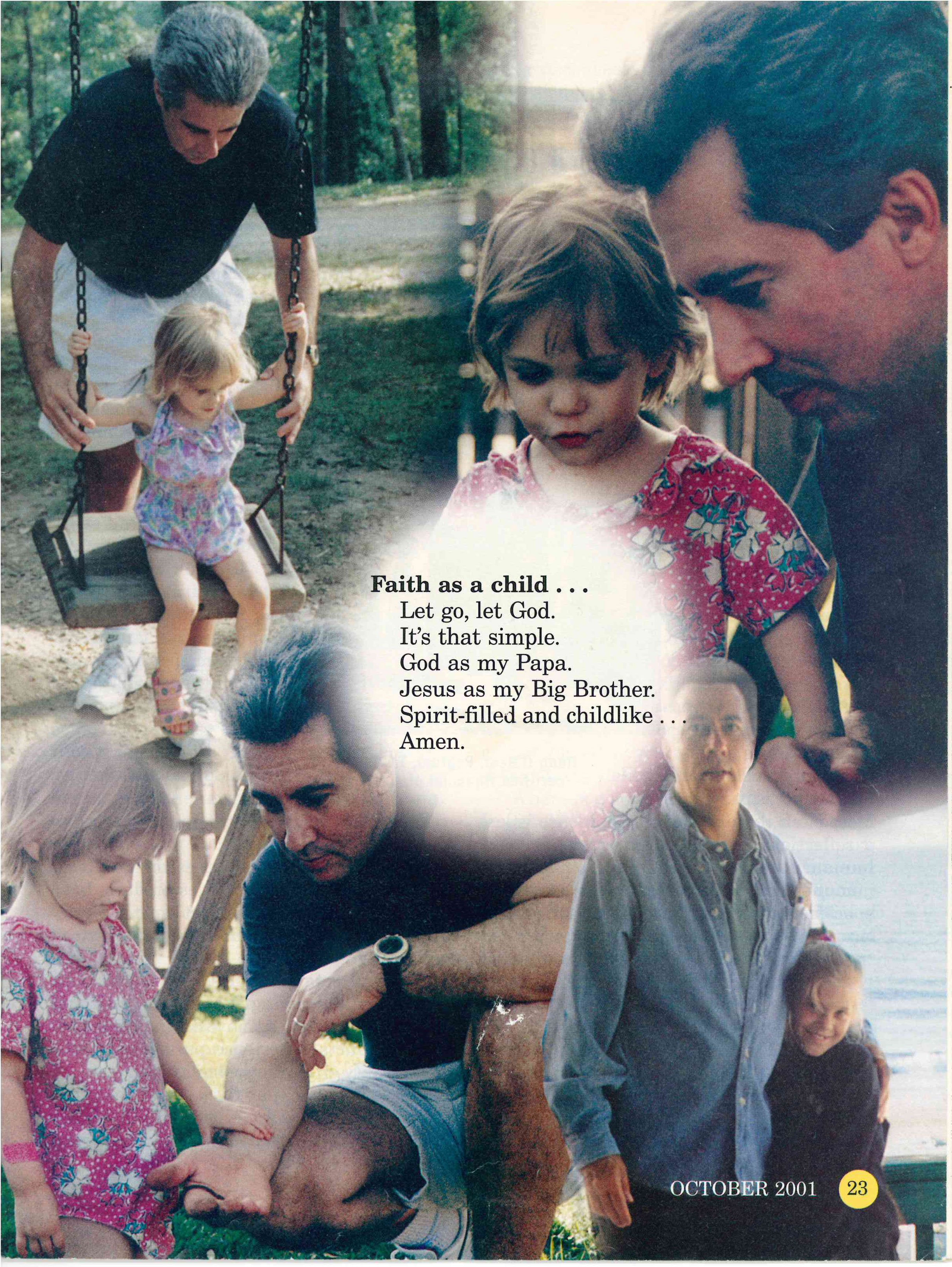 I have been spending time with my 3-year old granddaughter lately. She is a marvelous teacher. She makes sure I have plenty of opportunities to practice what she teaches-patience, kindness, the magic of intuition, spirit-filled and childlike exuberance, and, of course, unconditional love.
read more
Read Excerpts from Joe Pritchard's Newest Book
And the Greatest of These
The Preface
And the Greatest of These
Chapter One